Brandon Bailey Johnson Holds Guinness Book of World Records Title for "Youngest Professional Music Producer"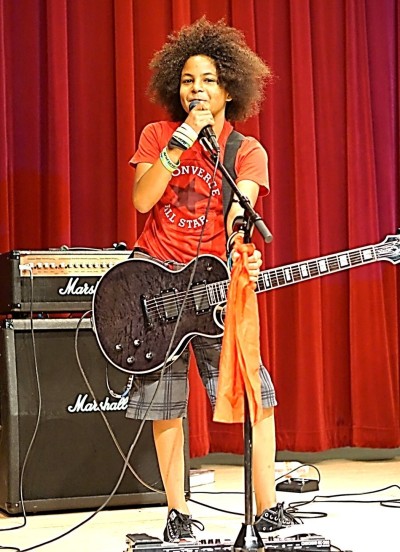 13-year-old Brandon Bailey Johnson Holds Guinness Book of World Records Title for "Youngest Professional Music Producer"
EL PASO, Texas, Aug. 25, 2015 /PRNewswire/ — Brandon Bailey Johnson, a 13-year-old American Singer-Songwriter, Multi-Instrumentalist, Composer, Arranger and Producer, from El Paso, Texas was awarded the Official Guinness Book of World Records certificate for the "Youngest Professional Music Producer" on Monday, August 24, 2015.
Johnson achieved the title of "Youngest Professional Music Producer" by working as the sole producer for ReddOak Records, LLC on his commercially released debut album My Journey. The Guinness attempt took place at his album release party on February 21, 2015 at the Pizza Joint Downtown, 500 N Stanton, in El Paso, Texas with over 350 individuals witnessing the event. The musical prodigy demonstrated and described in detail what inspired him to write each song, and how he performed the individual guitar parts (riffs, lead & rhythm, etc…) to each song. He also explained how he worked 6-8 hours per day in his studio writing, composing, arranging, recording and producing the music on live instruments (guitar, bass, piano, drums and vocals). The young mastermind also served as his own sound engineer and supervised the mixing and mastering process performed by George Ware of MacMoney Studios in El Paso, TX.
"Who knows, like I told his mom, this kid could be the next Prince. Prince did the same thing when he started out. He played all his instruments and he sang, but Prince was 19 when he started, and Brandon is only 12," said Ware.
Brandon Bailey Johnson is a child music genius who began formal music lessons at the age of eight and was writing songs by the time he was nine. He is a singer-songwriter, multi-instrumentalist who plays the guitar, bass, piano, keyboards, drums, percussion, and violin. The young boy wonder has written and composed over 35 songs and continues to write, compose, arrange, produce, and record new material. Brandon is currently producing four Artists and recording his 2nd album. He looks forward to releasing all of his current projects by early spring of 2016.
Follow Brandon at:
Brandon Bailey Johnson's EPK/Web-Site:
http://bit.ly/1EqDLUW
Facebook:
http://on.fb.me/1fAImyo
Instagram:
@brandonbaileyjohnson
http://bit.ly/1JreAnm
SoundCloud:
BrandonBaileyJohnson
http://bit.ly/1PupHQZ
Twitter:
@BBJMusic
http://bit.ly/1MOhXvQ
YOUTUBE:
Brandon Bailey Johnson
http://bit.ly/1NvJoKM
SOURCE ReddOak Records, LLC