Award-Winning Children's Performer and Musician Megan Piphus Releases May & Them Pups New Album "Spaceships & Dreams" | WATCH NEW VIDEO!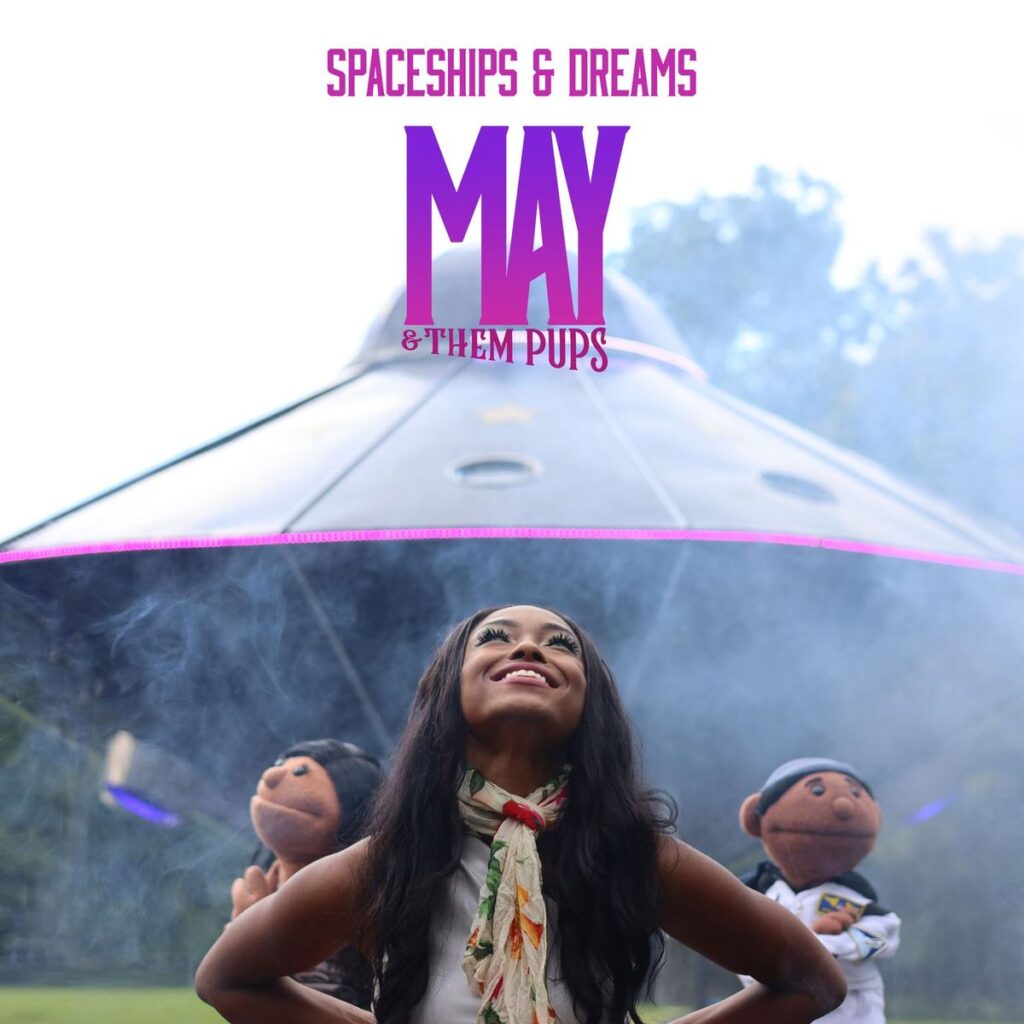 ANNOUNCING SPACESHIPS & DREAMS DEBUT CHILDREN'S ALBUM FROM FAMED PUPPETEER MEGAN PIPHUS AS MAY & THEM PUPS
A HIP-HOP & POP ALBUM CELEBRATING COMMUNITY & HUMANITY
FROM GRAMMY WINNING PRODUCERS SIR THE BAPTIST & BOOTSY COLLINS- OUT SEPTEMBER 15, 2023
From Emmy award-winning children's performer and musician Megan Piphus comes Spaceships & Dreams, her debut children's music album as May & Them Pups. The new collection was created to inspire children to find their own voices and unique gifts to help unite their communities. The empowering and entertaining original hip-hop album specifically made for grade school children was produced by Piphus and Grammy winners Sir the Baptist and Bootsy Collins. The collection releases September 15 on Bootzilla Records.
Piphus has gained national attention in recent years as the first Black female puppeteer to perform on Sesame Street playing the role of Gabrielle. Through Spaceships & Dreams, the mother of 2 young boys aims to further her creative reach to young families with high quality music made for them to enjoy together that also encourages positive character traits while spotlighting diversity and acceptance. The album tells the story of a teacher (Piphus) who dreams to connect her community. She works hard to plan the perfect event that would bring her neighborhood together to celebrate everyone's special talents. Each song alludes to a different character value such as leadership, humility, determination and perseverance. Set to bopping beats and robust musical arrangements, the collection seeks to mold the next generation into thoughtful and compassionate community leaders.
The album launches with Megan singing the inspired title track "Spaceships & Dreams" which is all about believing in the impossible. "We All Got Problems" guides young listeners on how to persevere through challenging circumstances. The toe tapping "Make U Proud" teaches about self-confidence and honor while a funk driven "Every Lyric Has A Home" talks of loving your home and family. "Bluetiful" is a sweet doo-wop tune full of advice on accepting emotions, even if they are sad. Anthony Hamilton joins on "Highway To Heaven" where hope, strong harmonies and piano shine a light on the journey to greatness. Closing out the album is "Find That Light" which searches for determination to find purpose in the world.
Spaceships & Dreams was produced by Megan Piphus and Sir The Baptist and was recorded in Nashville at the Celebration of Life Church, in Cincinnati at Megan's father's studio at Zion Global Ministries, and at Sir's Mississippi-based studio Tymple. Co-producers include Anthony Hamilton, J. Ivy, and Om'Mas Keith. Featured voices include Bootsy Collins, Anthony Hamilton, The Hamiltones, Jacob Sheard, Tarrey Torae, J. Ivy, Fantaazma, and Donald Lawrence. The album will be available everywhere families are looking for great music on September 15.
SPACESHIPS & DREAMS TRACKLISTING:
1) Spaceships & Dreams
2) We All Got Problems
3) Make U Proud
4) Every Lyric Has A Home
5) Bluetiful
6) Highway To Heaven
7) Find That Light
ABOUT MEGAN PIPHUS
Megan started puppetry and ventriloquism at the age of ten years old and taught herself by watching VHS tapes. She spent her teenage years traveling the nation singing and performing at schools and churches. In 2010, she graduated valedictorian of her class at Princeton High School and became known as the "Valedictorian Ventriloquist." She became the "Vanderbilt Ventriloquist" when she started college at Vanderbilt University. While in college, she appeared on the Tonight Show with Jay Leno and in June of 2013, she received yes's from all four judges on America's Got Talent. After graduate school, she performed on various television shows including Showtime at the Apollo with Steve Harvey, where she received a standing ovation from the Apollo Theater audience. In 2019, in collaboration with the University of Cincinnati, she performed and wrote songs for a TV musical series teaching young children basic financial literacy. Megan won two Emmy awards for best composition and best children's short from the series. Since 2020, Megan has played the role of Gabrielle, a 6-year old Black girl Muppet, on Sesame Street. After training for a year to learn Muppet-style puppetry with the cast of Sesame Street, Megan became the first Black female puppeteer to perform on Sesame Street in September of 2021. Since joining Sesame Street, Megan has appeared on the View, the Kelly Clarkson Show, and the Today Show. Megan is a mom of two boys.
WEBSITE, TWITTER, FACEBOOK, INSTAGRAM, YOUTUBE
Mayers Consulting