Jessica Sanchez to Give Thanks To Troops on PBS's Memorial Day Concert Special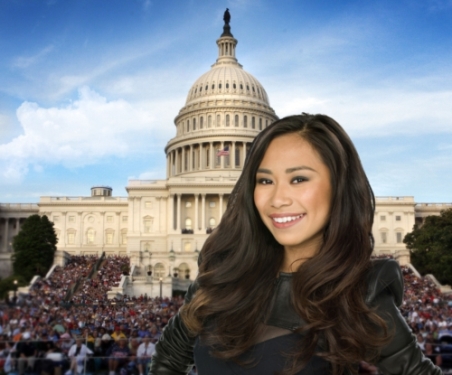 American Idol Final Runner Up Jessica Sanchez Is Proud To Give Thanks To The Troops In Her First Televised Performance After Series Finale On PBS's National Memorial Day Concert
Jessica Sanchez give thanks to the troops on PBS's National Memorial Day Concert broadcast live from the U.S. Capitol Sunday, May 27 at 8 pm. ET.
WASHINGTON, May 24, 2012 /PRNewswire-USNewswire/ — After an impressive showing at the finale of AMERICAN IDOL, sixteen-year old singing sensation Jessica Sanchez is honored to pay tribute to the service and sacrifice of all our men and women in uniform, their families at home and those who have made the ultimate sacrifice for our country. Sunday, May 27 marks Sanchez's first television performance since AMERICAN IDOL. She will perform the "National Anthem" as well as her rendition of "The Prayer" (by Celine Dion) on the NATIONAL MEMORIAL DAY CONCERT, airing live in HD on PBS from the West Lawn of the U.S. Capitol from 8:00 to 9:30 p.m. ET, before an on-site audience of hundreds of thousands, millions more at home, as well as to our troops serving around the world on the American Forces Network.
This performance is especially significant to Sanchez given that she has military connections in her own family. Her father, Gilbert Sanchez, has served several tours of duty in Iraq and Kuwait with the U.S. Navy and is currently stationed in Singapore. Sanchez's grandfather Edward M. Bugay, a retired Navy veteran, will accompany his granddaughter to Washington, D.C. to watch her live performance with the on-site audience at the U.S. Capitol.
"It's an amazing experience especially since my dad and my grandfather are both part of the military in the Navy so, I feel like I'm a part of it too. I'm really excited and I can't wait to give thanks. They fought for our country and it means a lot to be able to sing in front of all those people," said Sanchez.
Sanchez will join a star studded line-up that includes: concert co-hosts Joe Mantegna (CRIMINAL MINDS) and Gary Sinise (CSI:NEW YORK), distinguished American leader Colin L. Powell USA (Ret.); the multi-platinum rock band Daughtry; nine-time Grammy award-winner, singer and songwriter Natalie Cole; country music superstar Trace Adkins; Emmy, Oscar and Tony award-winning actress Ellen Burstyn; Emmy and Golden Globe award-winning actor and Vietnam veteran Dennis Franz; celebrated film and television actress Selma Blair; and world renowned tenor Russell Watson; in performance with the National Symphony Orchestra under the direction of top pops conductor Jack Everly.
Production Credits
The program is a co-production of Jerry Colbert of Capital Concerts and WETA, Washington, D.C. For the 2012 event, executive producer Jerry Colbert and producer Michael Colbert has assembled an award-winning production team that features the top Hollywood talent behind some of television's most prestigious entertainment awards shows. The team includes: Emmy award-winning producer Walter C. Miller, whose credits include the GRAMMY AWARDS and COUNTRY MUSIC AWARDS; award-winning director Paul Miller whose credits include THE COUNTRY MUSIC AWARDS and SATURDAY NIGHT LIVE; and veteran television writer Joan Meyerson who was honored with distinguished Writer's Guild Awards for the 2010 and 2006 broadcasts of the NATIONAL MEMORIAL DAY CONCERT.
Underwriters
The NATIONAL MEMORIAL DAY CONCERT is made possible by grants from the Lockheed Martin Corporation, the National Park Service, the Corporation for Public Broadcasting, the Department of the Army, General Dynamics, PBS and public television stations nationwide. Air travel is provided by American Airlines.
SOURCE Capital Concerts