Jazz for Teens Celebrates 25th Anniversary Season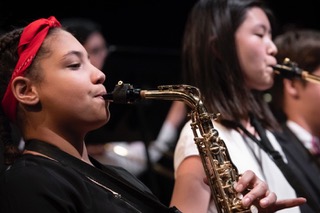 NJPAC'S TD JAZZ FOR TEENS EDUCATION PROGRAM CELEBRATES 25 YEARS OF IMPACTING THOUSANDS OF YOUNG MUSICIANS
NEWARK, N.J. (For Release) – The New Jersey Performing Arts Center (NJPAC), the state's anchor cultural institution, celebrates 25 years of offering thousands of high schoolers from Newark and beyond music lessons and performance experiences through its popular TD Jazz for Teens program. One of the first of many arts education institutions at NJPAC, it has grown into a nationally recognized and revered program producing stellar alumni such as MacArthur "Genius" Fellow Tyshawn Sorey. The 2022-23 school year is in full swing and accepting students for the Spring 2023 semester. The season will culminate with a special 25th anniversary concert featuring performances by guest teachers and alumni on the NJPAC stage in May 2023.
When: Spring semester Jan 21-May 13, 2023, every Saturday @ 10:00 a.m.-5:00 p.m. Special 25th anniversary performance May 13, 2023.
Where: New Jersey Performing Arts Center (NJPAC), Center for Arts Education, 24 Rector Street, Newark, New Jersey, 07102 (Newark Penn Station stop by Newark-bound PATH Train or Amtrak).
Who: Student musicians ages 13-18.
Register: $650 per semester. Registration is required and financial aid is available. For more information, visit NJPAC.org/arts-education or call 973.353.7058.
Jazz for Teens is a comprehensive and sequential jazz education program that develops well-rounded young performers through access to life-changing experiences. Students are provided access to top-notch musical training and study with world-class working artists, opportunities for artistic exchange within the community, and college and career exploration. Classes include jazz history, theory/composition, technique, ensembles, and more. Prospective college students are guided through the application process. Students are given many performance opportunities as members of the James Moody Jazz Orchestra and/or George Wein Scholars Ensemble (performing at the Newport Jazz Festival). All students record their own compositions together in a studio setting. Field trips to Rutgers University-Newark's remarkable Institute of Jazz Studies, the largest archive of jazz-related materials in the world, are regular treats for students.
Since 2015, Jazz for Teens has been at the helm of Mark Gross, the Director of Jazz Instruction for NJPAC. A multiple-Grammy-winning alto sax player and composer, Gross has performed and recorded with a roster of greats, including Dizzy Gillespie, Buster Williams, Nat Adderley, Dave Holland, Wynton Marsalis, and more. According to Gross, it is important to share the stories and lessons he learned from his mentors to the younger generation. "Those jazz legends I had the privilege of working with poured so much into me—if I don't pour what I've gathered from being around these masters into young people, they'll never get it. They won't understand the full impact of these artists."
In addition to Gross, a roster of more than a dozen working jazz musicians including saxophonist Wayne Escoffery and guitarist Alex Wintz (himself an alumnus of the program) as well as celebrated percussionist Alvester Garnett and acclaimed, Russian-born trumpeter Valery Ponomarev, a Jazz Messenger, to name a few — make up the Jazz for Teens faculty. Even more bold-faced names, including eight-time GRAMMY-winning bassist Christian McBride, the Arts Center's Jazz Advisor, vibraphonist Stefon Harris, and MacArthur "Genius" and Doris Duke Artist award winner Regina Carter offer master classes, working directly with students.
"If you're a beginner student who's just learning key signatures, scales and note names, we can say: 'Let me show how you can make a two-bar melody with C-D-E-F-G. Let's make a melody out of that.' If you're an intermediate student, you know a little more, I would say: 'Let's put some block chords and a simple groove to that melody,'" says Gross. "And at the advanced level, I'd say: 'Write me a song in the style of Charles Mingus.' And the student would bring in a song that has all these ideas in it, and I can help shape it. In two weeks, it'll have parts for all the instruments, sections that are improvisational, and all the components."
"NJPAC's programs have allowed me to grow, to see that I can do more than one thing," says Clay Hudson of Maplewood, a 16-year-old percussionist and composer in the Jazz for Teens program. "I'm a poet, I'm a jazz drummer, I'm a rapper, I compose — I can incorporate all aspects of myself into my work. There are lanes for everybody now."
Through this unique program, students become more than musicians—they grow into exceptional people ready to take on the world. Social and emotional support is embedded throughout all teachings with social workers made available to both students and their families. NJPAC's commitment to celebrating social justice work and students' social and emotional learning is integrated throughout the program. For example, Gross points out that his semester-long focus on the music of Mingus is inspired not just by the artist's centennial, but by how Mingus responded to the events of his day. "For me, being a part of Jazz for Teens, it's not just about being better at the craft, even though I've made relationships with established musicians, and played gigs with faculty," says Hudson. "Here, it's more like a commitment to myself, to this art form, and letting it take me wherever it goes."
Jazz for Teens Alumni
Many Jazz for Teens graduates have grown into successful performing and recording jazz musicians and composers. Others have not. "Whether they go to a higher-ed program or not, whether they play professionally or not, we want to give them a love of music, and through that, a sense of what life is about," says Gross.
Composer, conductor and multi-instrumentalist Tyshawn Sorey won a MacArthur "Genius" Award in 2017 and has since gone on to win raves for his compositions that bridge classical music and jazz. He recently premiered a new work at the Park Avenue Armory commissioned by the Rothko Chapel.
Another Jazz for Teens alumnus making waves is vocalist/arranger Lucy Yeghiazaryan. One of this year's Top Five Finalists in NJPAC's annual Sarah Vaughan International Jazz Vocal Competition, Yeghiazaryan credits Jazz for Teens for giving her the confidence to perform in front of a live audience. "I've often talked about how instrumental Jazz For Teens was for me, because it gave me an opportunity to work with a solid rhythm section long before most singers get a chance in the real arena. This gave me the confidence and strength that I think audiences appreciate in me today. I think this more than anything was extremely helpful for me as a young musician."
Many graduates can be found teaching the next generation. In fact, graduate and guitarist Alex Wintz can be found teaching in the Jazz for Teens program. "One of the things I always try to impart to my current students is the idea that you benefit by being challenged by your peers," explains Wintz. "The more you do that, the better you're going to become…and if you seek out programs like Jazz for Teens, you get a taste of what other people sound like, which is both humbling and inspiring. When I first came to NJPAC, that really inspired me to want to keep practicing."
Jazz for Teens History
The Jazz for Teens program was launched in 1997 by acclaimed bassist, composer and educator Rufus Reid, who was commissioned by the Arts Center's founding director of Arts Education, Philip Thomas, to create a jazz program for middle and high school students, along the lines of the successful jazz program Reid had run on the collegiate level at William Paterson University for 20 years. "I was adamant that if we did it, we had to do it a certain way, so the students would really benefit from it," says Reid, who has now retired from full-time teaching, but still tours and records. That included making sure high-quality instruments and amplifiers were made available to the students, some of whom came from financially challenging circumstances, and that the faculty were made up of working professionals. The program drew students with a love of music but few resources to pursue their musical education "out of the woodwork," Reid recalls.
Reid handed the program over to sax player Don Braden when he retired. Trombonist James Burton briefly ran Jazz for Teens before Gross stepped in to lead it in 2015. The original outline of the program remains, but Gross made some refinements, dividing students into beginner, intermediate and advanced classes, with approaches geared toward their level of musical understanding.
Amt Public Relations