The D'Addario Foundation Launches New Initiative "The Immersive Music Challenge"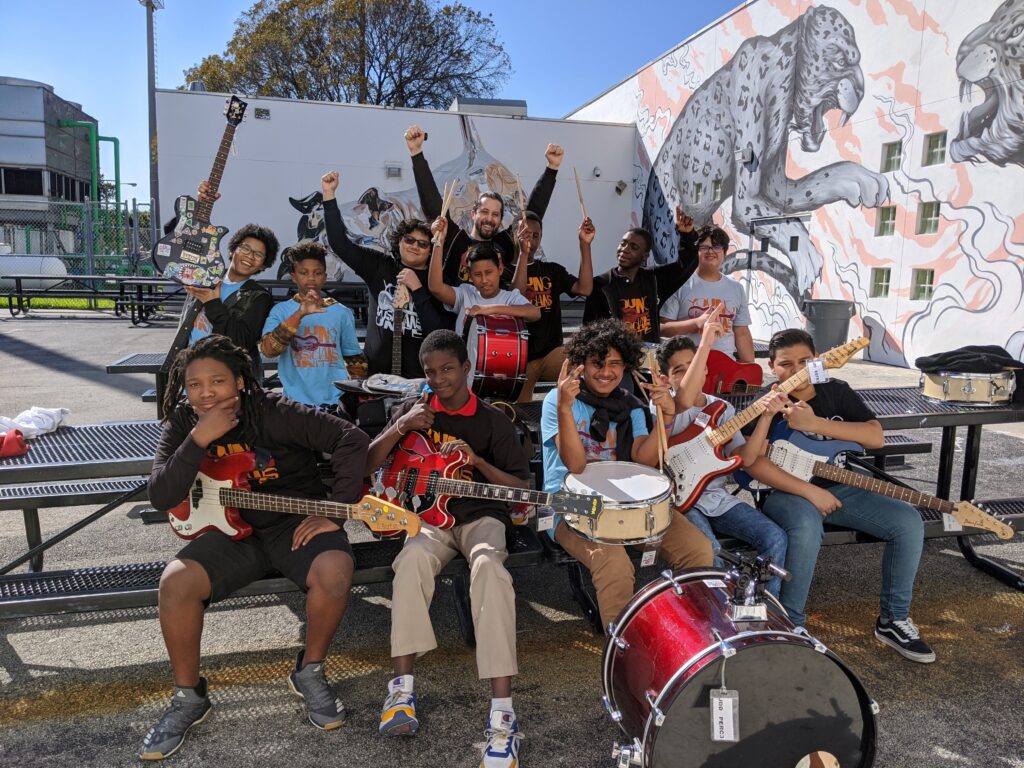 Karen O., Mark Knopfler, Nile Rodgers Lend Their Voices To D'Addario Foundation's Immersive Music Challenge To Raise Money For Music Mentoring Programs
Groundbreaking New Study From Ucla Links Intensive Music Mentoring To Higher Reading And Math Scores; Less Pandemic Related Anxiety In Students Also Seen
FARMINGDALE, N.Y. (PRWEB) OCTOBER 05, 2022: Today, the D'Addario Foundation has launched a new initiative called the Immersive Music Challenge, which aims to raise awareness and funds around a groundbreaking new study that finds intensive music mentoring, especially implemented in lower-income schools, is linked to significantly improved reading and math scores; decreased pandemic related anxiety was also observed. This news is especially pertinent as the shocking revelations of low reading and math scores post-pandemic are seen to have erased progress across the nation as kids go back to school.
Read more about this at D'Addario Foundation's new Immersive Music Challenge landing page here, featuring new study data, real stories, and ways to get involved: https://foundation.daddario.com/immersive-music-challenge/
With education and health in crisis this new study published in the Journal of Youth Development, culminates five-years of research and documents the importance of delivering music mentoring in schools consistently, frequently, and over multiple years, to significantly decrease the achievement gap in the United States.
For over forty years, the D'Addario Foundation has helped fund intensive music instruction and mentoring programs in under-resourced communities throughout the country, such as Harmony Project, Guitars Over Guns, Play On Philly and many more. Inspired by this new study, the foundation's School Achievement Challenge doubles down on its efforts to bring music mentoring to schools around the country. D'Addario's School Achievement Challenge aims to raise funds for national music mentoring implementation and generate awareness of the transformational academic, social and emotional impact of such programs.
Karen O., lead singer of the Yeah Yeah Yeahs and D'Addario artist says, "the gift of music education and music as an outlet for self expression is simply the greatest gift that gives and gives endlessly. In my roughest patches I could turn to the guitar, write a tune and feel it was saving my life only to hear from someone years later that a song I wrote got them through a rough patch too, it's been a blessing that never fails to astound me."
Nile Rodgers says, "to me, music in schools is the most important thing that you could ever experience – and it may be one of the best things that educators can experience as well! The consistency and the fun of doing music is one of the best things a kid can experience."
Mark Knopfler says, "learning a musical instrument will give you a friend for life. Now the latest research has demonstrated how vital music education is in schools. It has positive effects in all areas of learning and development: makes us smarter and makes a better world. Supporting the D'Addario Foundation is a key to this approach. The foundation is growing – on a journey to becoming a global influence. I hope you can help, however you can."
NOTES TO EDITORS
In 2019, 63% of U.S. 12th graders could not read proficiently. Poor reading underlies every form of social inequity, and is a pernicious statistic that has remained relatively constant in the U.S. for the past 50 years. With the pandemic further widening the achievement gap among young students and increasing their anxiety, depression, and social isolation, our students are in crisis.
However, the 2022 study from the UCLA Fielding School of Public Health, published in the Journal of Youth Development, now documents how immersive music mentoring programs could be the single most effective way to engage students, build self-confidence, enhance children's brain development, boost academic achievement, and create community.
Dr. Jonathan Fielding is a professor of pediatrics and co-chair of Healthy People 2030, which produced the U.S. Department of Health and Human Services' 10-year plan for addressing the most pressing public health priorities in the U.S.. Referring to the above-referenced study, Fielding emphasized the importance of intensive music mentoring implementation, saying "very few schools around the country have Harmony-like projects, but every time you see one, you find significant achievement. At this point, we don't need more studies; we need broad implementation. We have seen enough evidence of the auditory learning benefits of programs like this for students from low-income families that it's time to make them an essential part of the curriculum."
Visit https://foundation.daddario.com/ to learn how your local school districts and charter systems can participate in the D'Addario Foundation's Immersive Music Challenge