10 Year Old Piano Prodigy Abigail Huang Releases Debut Album "Chick Corea's Children's Songs"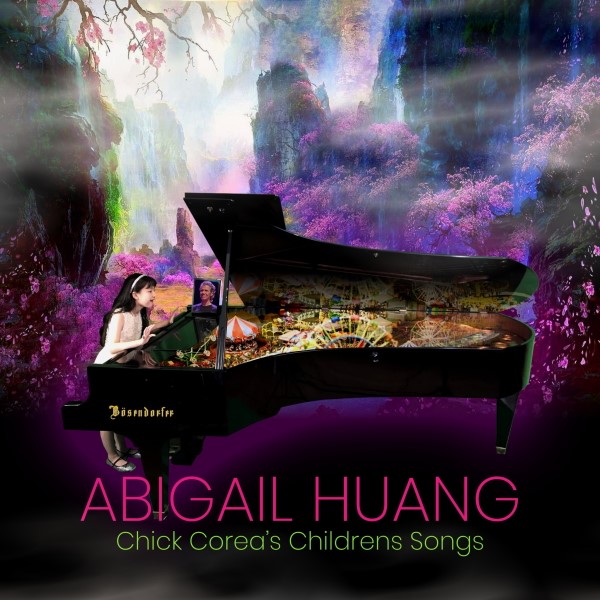 Ten Year Old Piano Prodigy Abigail Huang Releases Debut Album "Chick Corea's Children's Songs"
Ten year old piano prodigy Abigail Huang has released her debut album, a tribute to legendary Chick Corea, titled "Chick Corea's Children's Songs" on Solar Music.
Chicks Corea's wife, Gayle Moran, introduced me to Chick Corea on June 18, 1978 at The White House Jazz Festival. "Chicky, I want you to meet this nice boy!" I was so excited to talk to my hero.
We continued to communicate over the years, at many shows and playing at NAMM for Kurzweil. He also invited my wife and I to see a solo piano performance while I was working with him on Jon Anderson's 1000 Hands, Chapter 1. He spent me a lot of time with us – a wonderful day I will always cherish.
I received a call from a friend who asked if I had time to record some Christmas songs for a 10-year old piano prodigy named Abigail Huang. I told him that my studio is not open to the public, but he insisted that I needed to hear her, that she was very special.
We tuned up the Bosendorfer, but were not ready for what we heard. Abigail performed 20 difficult Christmas arrangements in an hour. Most everything after the sound check was a first take. Her delivery was unlike a child, it was of a sensitive, romantic adult.
I had just given my wife Chick Corea's Children's Songs and it struck me that these songs could be the vehicle for Abby's gift. I sent Chick a message saying I wanted to give him a vinyl copy of "1000 Hands" and had some news about The Children's Songs. He conveyed that it wasn't a good time. Little did I know.
Chick left us in February of 2021 – a great loss to the music of the world. What a wonderful man and teacher, and what a legacy of music. Abby pays tribute to him on the Album.
She played 10 songs in each sitting. She is a miracle, Chick would have loved this.
Glass Onyon PR