Jasmine V Debuts "That's Me Right There" Featuring Kendrick Lamar On August 5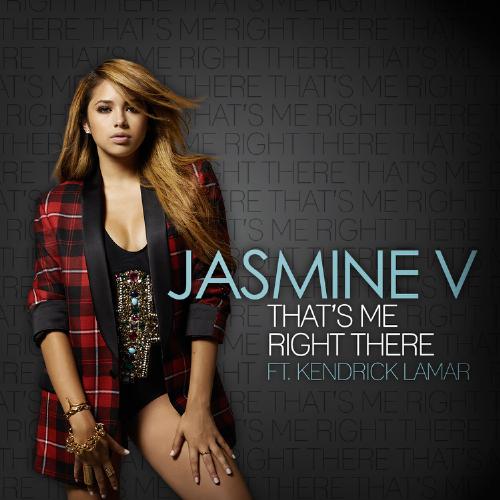 SANTA MONICA, Calif., July 29, 2014 /PRNewswire/ — Jasmine Villegas, a phenomenally popular young singer who has soared to the top of the social media universe, is set to release her first Interscope Records single. The catchy summer anthem "That's Me Right There," featuring award-winning, platinum-selling Kendrick Lamar, will be available digitally beginning August 5th. Villegas (aka Jasmine V), who signed to Interscope last year, is readying an extended play release for this fall.
"I feel like that song kind of represents my sound," she told Latina magazine about the aptly-titled "That's Me Right There" in a February 2014 cover story. "After all these years of trying to find myself and create myself, I finally did." "That's Me Right There" was produced by Harmony Samuels (Jennifer Lopez, Keyshia Cole, and Ariana Grande's double platinum Top 10 hit "The Way").
The 20-year-old Villegas, born in San Jose, California, has already scored more than 100 million YouTube views and currently has over 1.68 million followers on Twitter and more than 645,000 on Instagram (her fans are called Jasminators). Her Facebook likes exceed 931,000. In 2012, she was listed as the #3 Most Powerful Woman on Twitter and the #1 Top Twitter User in Los Angeles by TweetGrader.com. She was also named the #9 Most Influential Musician on Twitter by Klout.com. Her international fan base ranges from Mexico to the Philippines.
Discovered at age 11, her rise has been marked by featured roles on hit television shows (including "That's So Raven," "My Wife and Kids," and "The Suite Life of Zach and Cody"), nationally televised music performances, and guest spots on tours (Justin Bieber's My World Tour) and in music videos (Bieber's "Baby"). Her 2011 mixtape, "S(he) Be(lie)ve(d)," yielded three successful buzz tracks: "Jealous," "Werk," and "Just A Friend." This summer, she has starred on the Pop-Tarts Crazy Good Summer Tour with Demi Lovato and Austin Mahone.
Official Website: http://www.jasminevmusic.com
Instagram: http://instagram.com/jasminevillegas
Twitter: https://twitter.com/JASMINEVILLEGAS
SOURCE Interscope Records