FMA Live! Forces in Motion – The Hip-Hop Physics Educational Series is Coming Middle Schools in 10 States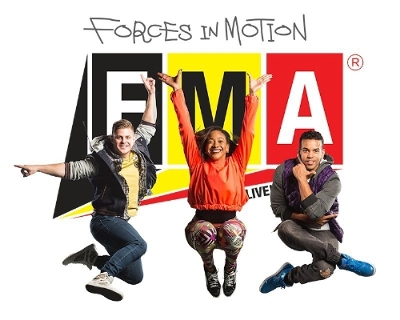 Honeywell And NASA Bring Hip-Hop Physics Educational Series To Northeastern Middle Schools
Award-Winning FMA Live! Forces in Motion to perform in 25 cities across 10 states
MORRIS TOWNSHIP, N.J., March 3, 2015 /PRNewswire/ — Honeywell (NYSE: HON) and NASA's award-winning, hip-hop physics education program, FMA Live! Forces in Motion, is making its way to Northeastern U.S. middle schools this spring. Aiming to inspire students to learn and enjoy math and science in a compelling, fun and memorable way, the popular show is in high demand, having been performed before 400,000 students in all 48 contiguous U.S. states, as well as in Mexico and Canada, since its creation in 2004. The spring tour launches in Wilmington, Del., this week.
"As a technology-based company, it's our goal to prepare the next generation of engineers, scientists and innovators, but to do that, you have to capture a student's interest," said Mike Bennett, president, Honeywell Hometown Solutions, the company's global corporate citizenship initiative. "With FMA Live! Forces in Motion, students are experiencing science and technology firsthand, rather than reading about it in a textbook. This show helps students understand how science and technology apply to their everyday lives."
FMA Live! Forces in Motion is an interactive, traveling hip-hop concert that teaches Newton's Universal Law of Gravity and Three Laws of Motion. Named after Newton's Second Law of Motion [Force equals Mass times Acceleration], FMA Live! uses music videos and interactive scientific demonstrations to teach and inspire students to pursue careers in science, technology, engineering and math (STEM).
"Bringing FMA Live! to our school was one of my proudest moments of my teaching career," beamed teacher Michelle Rose, after FMA Live! Forces in Motion visited her Colorado middle school in 2014. "Honeywell brought a high quality, thought-provoking production for our students to experience and reminded me why I love to teach!"
"This innovative collaboration between NASA and Honeywell has been immensely successful over the past decade," said Donald James, NASA Associate Administrator for Education. "The combination of exciting, NASA-unique content and a dynamic stage performance is a proven formula for helping students grasp the fundamentals of physics. Together, we are inspiring the next generation of scientists, engineers and explorers."
Over the course of 10 weeks, the show, under the direction of Honeywell Hometown Solutions, the company's corporate citizenship initiative, will reach 30 public, private and military-connected middle schools in 10 states: Delaware, Pennsylvania, New Jersey, New York, Connecticut, Rhode Island, Massachusetts, New Hampshire, Vermont and Maine. The program will tour the Midwest region of the United States in the fall.
About FMA Live!
Using live actors, hip-hop songs, music videos, interactive scientific demonstrations and video interviews with scientists and engineers from NASA's Jet Propulsion Laboratory, the show teaches Newton's Three Laws of Motion and Universal Law of Gravity.
Honeywell and NASA created FMA Live! to inspire middle school students to explore STEM concepts and careers. The program addresses Forces and Motion learning objectives outlined by the Next Generation Science Education Standards for students in grades 5-8.
Through Honeywell Hometown Solutions, the company has a number of award-winning programs focused on inspiring students at all grade levels to embrace STEM education. The company chose physics for FMA Live! Forces in Motion because studies have shown that the middle school years of education offer the best window of opportunity to get kids interested in STEM careers.
Supporting Resources
Read more about FMA Live! Forces in Motion
Visit the FMALive! Facebook page
Follow @HON_Citizenship on Twitter
Follow FMA Live! on Instagram
Visit Honeywell's Corporate Citizenship page
Learn more about NASA's education programs
For Educators
The new FMA Live! Forces in Motion features a teachers lounge, which provides:
National Science Standards-based teaching resources
Downloadable streaming videos
Music from the show
A comprehensive educational guide with lesson plans
Educators interested in having FMA Live! visit their school can fill out the online application.
About Honeywell Hometown Solutions
FMA Live! Forces in Motion is part of Honeywell Hometown Solutions, the company's corporate citizenship initiative, which focuses on five areas of vital importance: Science & Math Education, Family Safety & Security, Housing & Shelter, Habitat & Conservation, and Humanitarian Relief. Together with leading public and non-profit institutions, Honeywell has developed powerful programs to address these needs in the communities it serves. For more information, please visit http://citizenship.honeywell.com/.
About Honeywell
Honeywell (www.honeywell.com) is a Fortune 100 diversified technology and manufacturing leader, serving customers worldwide with aerospace products and services; control technologies for buildings, homes, and industry; turbochargers; and performance materials. For more news and information about Honeywell, please visit www.honeywellnow.com.
Honeywell and the Honeywell logo are the exclusive properties of Honeywell, are registered with the U.S. Patent and Trademark Office, and may be registered or pending registration in other countries. All other Honeywell product names, technology names, trademarks, service marks, and logos may be registered or pending registration in the U.S. or in other countries. All other trademarks or registered trademarks are the property of their respective owners. Copyright 2015 Honeywell.
SOURCE Honeywell