Up and Coming Singer Angelina Alexon Releases New Pop Single "Down For U"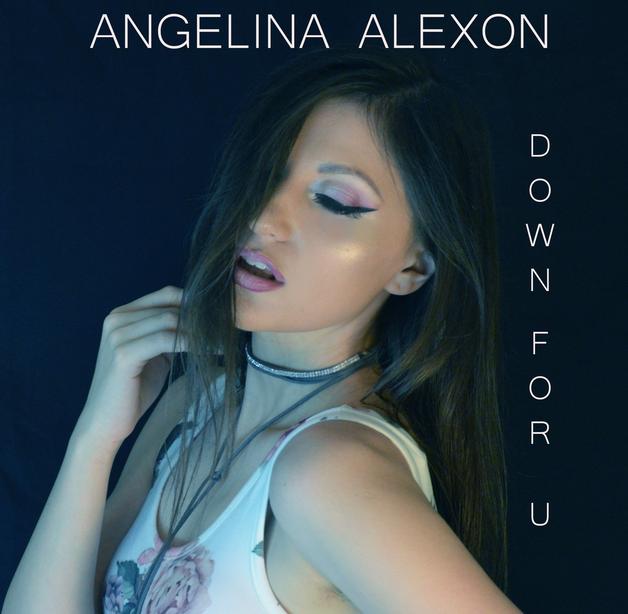 Angelina Alexon – Artist To Watch in 2018 releases her new single -"Down For U"
Available NOW for Purchase/Listen by clicking HERE!
DEC, 2017 – LAS VEGAS – After Angelina Alexon's voice impressions "One Girl 15 voices" recently going viral with over 25 Million views on social media , this muti-lingual 5 octave new singing sensation , has just released her much anticipated brand new pop single "Down For U" as well as a Christmas Edition Impressions Video.
This single which is already making it's way to the top of playlists was solely written and produced by this astonishing new young talent. It is the debut release of Las Vegas newest record company Poptrend Music LLC, founded by long time music industry attorney and artist manager Paul Insinna.
Her last release the Pop Latin single "Amor", received rave reviews from club dj's throughout the world, going to the top of many Record Pool charts including , #2 on the DJ Times Latin, and National Latin Record Pool, # 4 in Latin house chart and # 7 on the International Chart, as well as receiving regular radio play at many radio stations including major stations and on TV appearances, including Telemundo and Univision.
Angelina Alexon's vocal range, as well as her vocal tone and power has been compared to two of her biggest inspirations Mariah Carey & Celine Dion. In Fact you can hear the Mariah influence at the end of the single "Down for U" where Angelina effortlessly hits Mariah's trademark high whistle tone. Angelina is also an accomplished dancer, obtaining her graceful movements and passionate Latin moves from her years of formal training.
In addition to being an amazing performer, singer, vocal impressionist songwriter she also sings in 7 languages. Many who have seen her perform in the U.S. including members of Congress when she performed at the U.S. Capitol , state that the combination of her amazing voice and dancing results in her being a captivating live performer.
A video for this single will be released soon as well as her follow up single "The Old Us"
smarturl.it/AADownForU "Down For U" single by Angelina Alexon
VIDEOS
Hey guys! Check out my new "One Girl 15 Voices" video. Hope you like it! #1girl15voices 1. Ariana Grade – Into You2. Mariah Carey – Dreamlover (whistle register)3. Celine Dion – I'm Alive 4. Britney Spears – Baby One More Time5. Iggy Azalea – Fancy 6. Selena Gomez – Hands to Myself 7. Shakira – Whenever Wherever8. Christina Aguilera – Ain't no other man9. Cher – Believe10.Ellie Goulding – Love me like you do11.Amy Winehouse – Valerie12.Thalia – Dicen Por ahi13.Katy Perry – Dark Horse14.Sia – Alive15.Bebe Rexha – I Got YouI don't own any of the songs / No copyright intended.

Posted by Angelina Alexon on Thursday, July 13, 2017
POP IMPRESSIONS – XMAS Edition ❄️🎄♥️1.Celine Dion , 2.Ariana Grande , 3.Britney Spears, 4.Mariah Carey , 5.Christina Aguilera , 6.Kylie MinogueLISTEN to my new single here 👉🏼 smarturl.it/AADownForU 🚨‼️

Posted by Angelina Alexon on Monday, December 18, 2017
SOCIAL MEDIA links
https://facebook.com/angelina.alexon
Twitter: Angelina_Alexon
https://instagram.com/angelina_alexon
www.AngelinaAlexon.com
POPTREND MUSIC LLC