13 Year Old Musician Justin Lee Schultz Releases Cover of "Do I Do" | WATCH NEW VIDEO!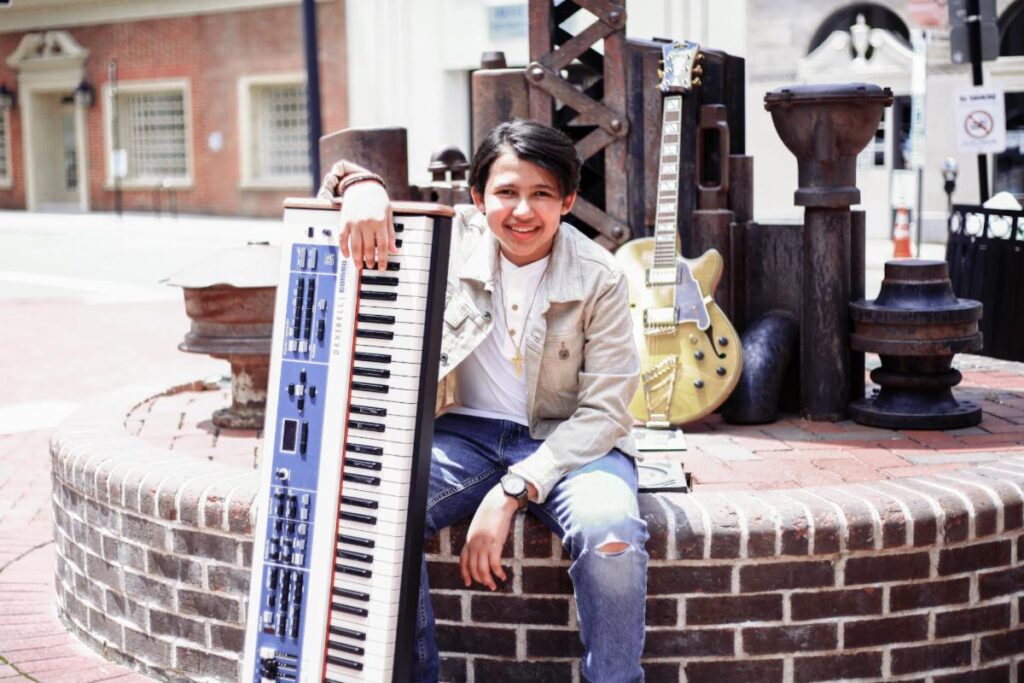 MULTI-INSTRUMENTAL PRODIGY JUSTIN LEE SCHULTZ
PAYS HOMAGE TO MUSICAL HERO STEVIE WONDER WITH NEW VIDEO OF STEVIE'S CLASSIC "DO I DO"
13 YEAR OLD WHIZ KID'S NEW CD GRUV KID FEATURING "DO I DO" JUST HIT
TOP 10 ON BILLBOARD'S SMOOTH JAZZ CHART MAKING HIM
THE YOUNGEST MUSICIAN TO EVER CHART!
Gruv Kid Unites Schultz With Bob James, Harvey Mason, Najee,
Jonathan Butler, Gerald Albright & More!
"I love Stevie Wonder's music. Almost all of his songs have interesting
chord changes, which makes it interesting and fun to play.
'DO I DO' is definitely one of my favorites!"- Justin Lee Schultz
Justin Lee Schultz's version of "Do I Do" features his 17 year old sister Jamie-Leigh on the drums. "Jamie and I are like a normal brother and sister," confides Justin. "We have our little fights and arguments, but we always have fun on and off stage!" Born in Johannesburg, South Africa and based in Durham, NC, musical wonder-kid Justin Lee Schultz is the good news you did not even know you needed. He is joy personified. The multi-instrumental wizard who has dazzled audiences on TV shows Harry, Little Big Shots and America's Most Musical Family (with his bass playing father Julius and sister Jamie), is a prodigy in the fashion of his idols Stevie Wonder and Herbie Hancock. His talent is exceptional not merely because he is young but also due to his melodic, harmonic and technical maturation.
Justin's Shanachie debut Gruv Kid, was released November 2020 and is currently Top 10 on the Billboard Smooth Jazz Charts, making him the youngest musician to ever have a presence on the chart. "We recorded this album during the Pandemic so that helped me stay focused during this time. My piano teacher also gave a lot of material to work on, so music definitely kept me going during 2020," reflects Justin. The young multi-instrumentalist has aspirations to one day share the stage with Stevie Wonder and Herbie Hancock, as well as Bruno Mars, Charlie Puth, Jacob Collier, Cory Henry and Robert Glasper. Justin concludes, "The ultimate dream is to win or even get nominated for a Grammy!" he exclaims. "I also hope that I can give people joy and happiness when they listen to my music!"
VIDEO CREDITS
Justin-Lee Schultz….Piano/ Talkbox
Jamie-Leigh Schultz…Drums, Video Editor
Brandon Rose.. Bass Guitar
Chris George… Guitar
Mitch Lawrence… Baritone Sax
Nolan Plunkett… Trombone
Johnny Cochran… Tenor Sax
Daniel Spearman… Trumpet, Horn Section Arranger
Steve Johnson…Keys, Programmer, Arranger, Horn Arranger, Producer
Shanachie Entertainment